Darkness had descended by now. We decided to take a stroll around the temple complex before beginning our hunt for a local dining experience.
The weather this far into our trip had been nothing short of perfect. Early morning rides through the crisp, fresh and dry morning chill of the plateaus had been unexceptionally pleasant. Daylight would spread around us as if the heavenly blanket was being withdrawn tantalizingly slowly to reveal the beauty sprawled underneath. Daytime temperatures were tempered by the winter axis of earth. The clear day sky spilled into nighttime, painting a twinkling ceiling and making the evening ritual of exploring the town on either side of dinner that much more special. Lack of precipitation meant that the humidity levels were comfortably low. Tonight was no different.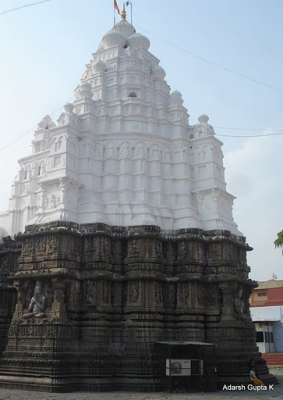 The Aundha Naagnath temple.
We followed the sparse crowd into the temple complex. The token presence of state security police at the gates was not as pronounced as the ones we encountered at Pandharpur two noons ago. Two police constables were sitting on an elevated platform near the gates, next to the ubiquitous walk-through frame of metal detector. The metal detectors were switched off, the constables even more so. Their monotonously dreary responsibility of safeguarding the complex and visitors without any clear intelligence directives had produced the inevitable effect. While most constables found solitary pursuits in reading news, some others found activity in helping out the temple staff in their duties. In a few cases their assistance hid ulterior motives as I was to discover later. None seemed approachable and almost all presented a courteous but curt facade. Their expressions hinted that they would welcome some human interaction but on the other hand the risk of loosing their carefully crafted pretentious respect restrained them.