The competition for the top spot of men's tennis rankings has always seen a clash of legendary individuals; each one not just out-muscling others on the court with their skills, fitness and tactics but also with the force of their personality. Connors, McEnroe, Borg, Sampras, Agassi, Federer, Nadal each brought their unique talent to the sport but what makes their contributions that much more significant is that they climbed the pinnacle with such stark differences in personalities. Borg the unflappable, Sampras the nerd, Agassi the flamboyant, Federer the quiet professional, Nadal the fighter. After watching the performance of Djokovic against Nadal in the Wimbledon finals we may be on the threshold of the era of Djokovic the dramatist.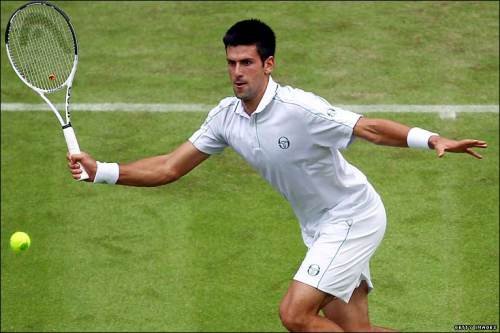 Djokovic making his move on grass.
Federer and Nadal, the two undisputed champions of the past decade made the wait for each Grand Slam worth the anticipation because their seeding would ensure a contest between these titans for the finale. While we witnessed many such clashes in Paris and London, other's stepped up occasionally with a motivated day in the office to play spoil sport in New York and Melbourne. Barring the epic Wimbledon final and Nadal's christening title win, most other contests between these two have been a one sided affair. Nadal dominated Federer on clay and even beat him at Wimbledon and Melbourne with predictable regularity. There is no doubt that Federer's aura of invincibility is on the decline. But just as men's tennis was bracing for an era of Nadal cantering towards record breaking titles, Djokovic awakens to his potential.