The competition for the top spot of men's tennis rankings has always seen a clash of legendary individuals; each one not just out-muscling others on the court with their skills, fitness and tactics but also with the force of their personality. Connors, McEnroe, Borg, Sampras, Agassi, Federer, Nadal each brought their unique talent to the sport but what makes their contributions that much more significant is that they climbed the pinnacle with such stark differences in personalities. Borg the unflappable, Sampras the nerd, Agassi the flamboyant, Federer the quiet professional, Nadal the fighter. After watching the performance of Djokovic against Nadal in the Wimbledon finals we may be on the threshold of the era of Djokovic the dramatist.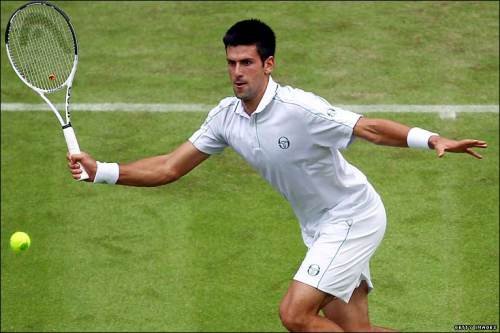 Djokovic making his move on grass.
Federer and Nadal, the two undisputed champions of the past decade made the wait for each Grand Slam worth the anticipation because their seeding would ensure a contest between these titans for the finale. While we witnessed many such clashes in Paris and London, other's stepped up occasionally with a motivated day in the office to play spoil sport in New York and Melbourne. Barring the epic Wimbledon final and Nadal's christening title win, most other contests between these two have been a one sided affair. Nadal dominated Federer on clay and even beat him at Wimbledon and Melbourne with predictable regularity. There is no doubt that Federer's aura of invincibility is on the decline. But just as men's tennis was bracing for an era of Nadal cantering towards record breaking titles, Djokovic awakens to his potential.
Anyone who witnessed Djokovic's run to his first grand slam title, the Australian Open of 2008, where he knocked out the defending champion Federer in 3 nonchalant sets, saw the potential. His athleticism was unmatched (even Nadal gets himself out of position trying to retrieve) and his skill to use not just the width of the court but the depth using his immaculate drop and short cross court shots was bold. His serves are more dissecting than overpowering, his ground strokes are more an efficient refraction of the opponents stroke rather than an imposition of his muscle, his volleys and overheads are just plain solid. He is also never one to shy in front of a crowd – rather the opposite in fact. He managed to create something fresh in the sport. A search for 'Djokovic imitations' on Youtube is worth hours of amusement.
When Djokovic went through a barren patch of 2 years without any grand slam title, it was disappointing to watch for many of us fans of the sport. All feared that his need for pandering to the crowd would eventually lead to his spiral downfall. This barren patch was not a result of any noticeable decline in talent. It was his mental fortitude and physical fitness was lacking. That combined with his taste for showmanship meant that he would loose the plot quite predictably even in matches he should have walked home with a poodle in tow. His fellow Serb Ana Ivanovic, after claiming the 2008 ladies title at Roland Garros, also exhibited similar trappings to eventually fall by the wayside, failing to even make the final 8 on most occasions. This is not uncommon in sports. One of the final obstacles in the pursuit for the claim to be champion is managing third person perspective of one's self in one's own mind. It's no secret that the ones who make it never worry about such impressions. They locate their comfort zone by focusing on the sport on the court and shutting out everything else. Djokovic, not a moment too soon, seems to have ingested this in substantial dose.
His performance this year has been nothing short of legendary. En route his 48-1 win-loss record for 2011, he threatened a 27 year old record for the best start to a year. Djokovic's effort was only thwarted by his resurfacing self-doubts and the shrewd management by his opponent – a certain fellow named Federer – of this momentous occasion in the the semi-final match-up at Roland Garros this year. If it were not for Federer, there is no doubt in my mind that Djokovic would have trounced Nadal in the finals. Djokovic has countered all of Nadal's weapons in each and every single one of their match-ups this year; plus he has been able to dish out a few of his own. He has beaten Nadal in 4 finals of ATP events (excluding his Wimbledon title). Twice on clay and twice on hard courts. His clay court performances have been so demoralizing for Nadal that it made a visible dent on Nadal's preparation for their Wimbledon final's match-up.
In terms of the style of play, both Nadal and Djokovic utilize similar weapons. They are both extremely agile on the court. They can retrieve almost any shot. They both possess exception peripheral vision and deft wrists. While Djokovic wields his backhand down the line to set up winners, it's the Nadal inside-out topspin to the far baseline that set's him up for winners. Nadal has many other flaws to his game but he overcomes all of them by his scout-boy discipline and his unquenchable desire to overcome any situation. It's impossible to sympathise with Nadal when he looses. For someone who empties his arsenal – both physically and tactically – for the cause on hand, it's only admiration that springs to heart. And that is why this new rivalry between Djokovic and Nadal should make any tennis fan drool.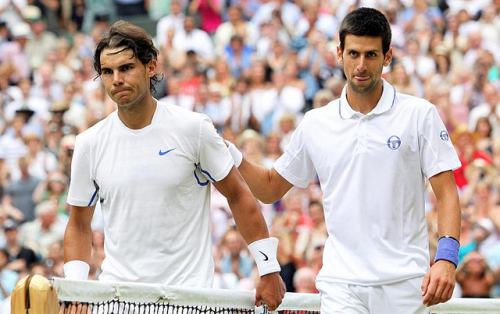 Djokovic-Nadal: A budding rivalry.
Nadal has failed to crack Djokovic because his uncle Tony has not found any tactical flaws in Djokovic's game for Nadal to exploit. Djokovic plays a tight game. Beginning from his serve, his every shot is meant to move the opponent around without getting himself out of place. The split leg slides which he employs on all surfaces to retrieve wide balls means that he his able to quickly push himself back to the centre. He rarely lets himself be pushed too far behind the baseline. This is because he has the ability, like most great players, to attack the ball on the rise. Even Nadal's' favourite ploy to right-handers, the heavy top spinning shot to the backhand side baseline is returned by Djokovic with a short back-swing and stiff hands, either down the line or cross-court. Djokovic's forehand is definitely the weaker shot but what he lacks in power, he makes up for it in precision. His strategy to beat Nadal has been one that many have tried before. Nadal leaves a gap on his forehand side when he tries to run around shots on his backhand. Djokovic, by returning the ball early has been able to thread this gap using both is forehand down the line and backhand. This keeps Nadal guessing and his normally sure footwork gets clumsy. Djokovic changes the pace on his shots to utilise the depth of the court too. His drop shots are winners or at least prelude to winners. His volleys and overheads are pure fundamentals in practice.
Will Nadal be able to find a weakness to punch through in this rock solid formation or will the tennis gods exhibit their penchant for unusual twists by whispering the secret in Andy Murray's ears. The anticipation is making the wait worth every second.
10th July, 2011. Mattanur.