Ever since the alleged improprieties in awarding of certain contracts for CWG 2010 was triggered in July, the avalanche of further embarrassing accounts in other aspects of the preparation has only gained momentum even though we are now into the eleventh hour. Indian government lobbied for the privilege of hosting the Games quite actively and successfully. India was chosen as the host nation as early as 2003 but development activities did not begin until 2008; after a full 5 years of passion wilting slumber. Even Kumbhakarna woke up every 6 months to take stock of situation. 5 years is a long time to squander every ounce of intent with which the patronage of other Commonwealth nations were sought. The public has shown very little enthusiasm in playing host to the games. Majority of the citizens of Delhi, from all cross-sections of the society, have been enduring the preparations rather than enjoying the prospects. An event of this magnitude should have galvanized the locals in ensuring that their sporting spirit be granted better facilities to exercise. Instead, the stereo typically opaque manner of execution that is so effective in alienating the public from all matters of governance was staged in it's full glory.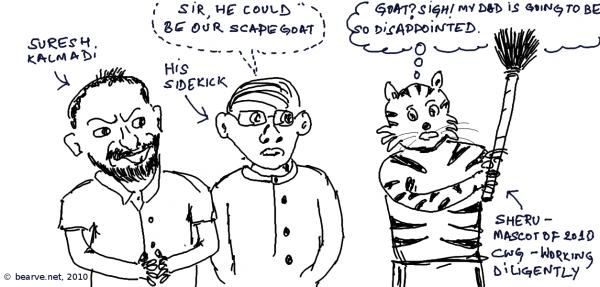 The political steeplechase that is the Commonwealth Games Delhi
It is not my intention to parrot all the deficiencies that have been highlighted with ever increasing exuberance by the media as well as the member nations. We have passed the point where the volume of controversies will create more impact. The national psyche has be been scarred irreparably. The autocratic sub-culture that thrives within our democratic carapace was spotlighted best by the manner in which contracts were awarded without adhering to even the basic regulations of the process for sealed tenders. Unadulterated apathy towards even the basic and universally accepted methods of estimating both time and cost is underscored by the actual expense to date which now stands north of Rs. 70,000 crores. The initial estimate was under Rs. 2000 crore – an obscene deviation of almost 4000%. Opinions and sentiments of the actual stars and star-makers of the show – the sportsperson and the spectators – were never even considered. If it were, then the facilities would have be ready well in advance for at least 1 round of national games to be held so that anticipation of a better competition involving world class athletes could have been cranked up.