The winter sun was setting sooner these days. It was barely 5pm, yet twilight was hinting it's onset already. There was also a definite chill in the air now. I could feel it through the ventilation vents in my riding gear which I had left open for the afternoon ride. Anoop, my nephew, and I had be riding since 7am from the bordering town of Adilabad in Andhra Pradesh. He on his 100cc Hero Honda. I on my 150cc Yamaha. We had planned to reach Tadoba National Forest in the Gadchiroli district of Maharashtra the previous night but we could not cover as much ground as we had hoped. The scenic and naturally blessed regions between Nanded to Adilabad were too enchanting to blow past quickly.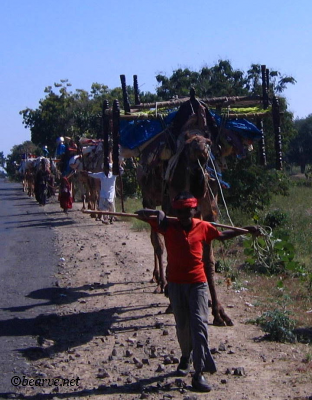 Nomads in Nanded.
Frequent stops, some intended and others at the mercy of Indian Railways and their guards manning railway crossings, blocking traffic until the train chugs it's way out of the closest station, caused some delays. Some other request for stops were bleated to us by hundreds of direction-impaired goats. Yet another stop was to photograph a caravan of nomads, with their camels and full sized cots delicately balanced atop them, despite the hump.
With Tadoba too far for yesterday evening, we decided to settle for the night in the town of Adilabad. In the throes of the Telangana agitation.
The next morning, deciding against riding towards Tadoba on account of a missed day, we traced an alternate route back to Mumbai. The roads we travelled since morning and the people on them weren't much different from the ones we met riding towards Adilabad. That wasn't surprising since we were riding on a belt just 50 or so kilometers north of yesterday's route. Until then, the 4th day into our ride, we had avoided eating at dhabas. The objective of motorcycle tour around Maharashtra, covering around 3000 kilometers over 6 days, was to gain first hand the feel of life in towns through which we passed. Dhabas, we contended, wasn't local to any place in India except Punjab, so that was totally out of the question. Except that afternoon, when after futile attempts at finding an eatery serving local fare on our route, we had to ride 15 kilometers in an opposite direction, crossing a mountain range in the process, just to have the opportunity to eat at a dhaba. The revenge of the dhaba! How dare we plan such a long road trip in India and imagine ignoring dhabas?
We had been riding non-stop since lunch.
The setting twilight as well as the dipping temperatures was making me anxious to end the day soon. We were again short of our estimate for the day. We should have arrived in Jintur by this time. When we consulted the book of 'Indian Road Map' – a real treasure to anybody with an exploring spirit – the largest black dot on our route which could offer accommodation for the night was Jintur. But we were still a good hour or more away. I was passing a smaller town and bracing myself for the next hour's ride when Anoop caught my attention and asked me to pull over. The information he offered was interesting. It seemed we had passed a pilgrim town and I had missed some of the signs along the way. When we retraced our route back we found that this town of Aundha was home to one of the 12 'jyotirlingas'. A 'jyotirlinga' town must have a 'dharamshala' or a lodge or some other form of accommodation. These places are popular pilgrimages among Shiva devotees. Riding through an inroad, keeping the temple tower in our cross hairs, we were passing through the main market of this town. The focus needed to negotiate around unpredictable people and the rather predictable cows and dogs was found wanting. Mercifully it was a short ride to a yard adjacent to the temple. Resting our bikes we discussed and agreed that we had to find any sort of accommodation as soon as possible. If this did not work out soon then even Jintur would cease to be an option.
As I approached a small store with the customary first line of transparent large square bottles with large shiny tin caps displaying colourful candy and biscuits and fried knick-knacks, Anoop walked in the opposite direction. We were in a tiled, square shaped yard with a large sweet-tamarind tree on the end opposite to the one we entered. To our left were rows of connected houses with verandahs, presumably the lodging facility. To the opposite end – where the sweet-tamarind tree stood majestically, equidistant to it's other two sides – was the boundary wall with the temple. To our right, on the far end, a large passage way was left open for pilgrims to get to the entrance of temple. Closer to us, on our right was a large cavernous hall where a few kids of families who had chosen this style of accommodation were causing more noise than I would have guessed possible. Adjacent to it was a smaller room and Anoop was walking in it's direction.
I enquired about lodging options to the youth standing behind all those large square bottles. He replied politely that where we are was the best option, they should have rooms available and that my partner was already in the Manager's office now. Feeling relieved, partly knowing that the matter of the room was almost settled and partly because I found an intelligent soul to talk to for the next few minutes wait, I immediately asked for a tea.
As he began to pump the brass kerosene stove, forcing to pressurize the liquid into vapour, I enquired about this pilgrimage town. Until then I hadn't even noticed this as an option on the hours of Internet research prior to embarking on this tour. He informed me that this town was indeed one of the 12 'jyotirlinga' towns. The temple here housing the 'linga' was constructed by Dharmaraj, the eldest of the 5 Pandava brothers, himself during his exile from Hastinapur. It is a popular destination among Shiva devotees, especially the one's from the Northern parts of India. He even shared that the boundary wall on the in side of the temple had a illustration on a map of India about the location of 12 'jyotirlingas'. '8 of which are in Maharashtra, did you know?', he proceeded to ask. I did know but I chose to reciprocate with a smile as I received the short glass of tea which he was holding out. He didn't seem like the kind of chap who would take any pleasure in outwitting an urbanite. He wasn't. Without waiting for any form of response he turned around to reduce the pressure in the kerosene tank of his brass stove.
Continued in
Saved by Aundha – part II
27th August, 2010, Mumbai.