Lodging for the night was easy to find. We walked into a dharmashala and negotiated a room for Rs. 150. Just an 8×10 feet room, tiled by rough cut, unpolished slabs of granite, a solitary window, a door and a sheet of rippled asbestos for roof. The courtyard outside was spacious and formed the center of this dharmashala with connected rooms on it's periphery.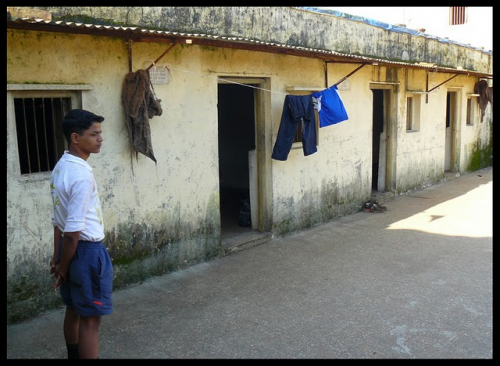 Dharamshala in Bhimashankar
The room came with just a coir rope strung on nails across the length of a wall, probably as a clothes line – that's how we treated it in any case. Upon inquiring we received a large sheet of polyurethane foam (typically used to wrap cooling pipes in air conditioning installations) meant to be used as a more comfortable sleeping surface and I must confess, it didn't disappoint the purpose. The sheet of foam tempted me to lie down flat on my back gazing out-of-focus at the clear blue sky, framed by the window.