I was involved in my regular monthly catch-up conversation with my cousin in Bengaluru when she mentioned that an acquaintance of her had recently moved to Mumbai after living in Bengaluru for many years and that he needed some help in finding accommodation. She had given him my contact information. She also proceeded to narrate this person's excitement at experiencing Mumbai first hand and how surprised he had been in finding the auto drivers and shopkeepers being so courteous. Anybody who has any experience dealing with auto drivers in Mumbai and Bengaluru will vouch for the professionalism of the man in khaki from Mumbai. For the rest, I'll attempt to elaborate.
I travel to Bengaluru at least twice a year. Until recently my hosts in Bengaluru lived on the northern border of the city limits. This meant that any time I had to visit the centre of the city finding conveyance back inevitably turned into a much dreaded affair. The auto drivers would want either 1.5 times the metered fare or at the very least, Rs. 30 over the meter. This meant that the regular fare of about Rs. 80 would easily breach the three figure mark. Even when I lucked up on auto drivers who desired to ply in that direction, they would try their very best in harassing you for the extra bucks. An all out tactical game of brinkmanship was required to get the auto driver to abide by the meter. Even after having given his word I still wouldn't be able to enjoy the ride. I had to pray that the driver wouldn't change his mind on reaching close to my destination and hold me ransom for the few extra bucks. On more than a couple of occasions I was forced to call the bluff only to find myself walking the final half kilometre or so. On my last visit I was forced to walk the final few hundred meters to my destination right within the heart of the city limits. The only exception to this experience was when I boarded autos plied by drivers from the Muslim faith. On both of those occasions the experience left me pleasantly surprised.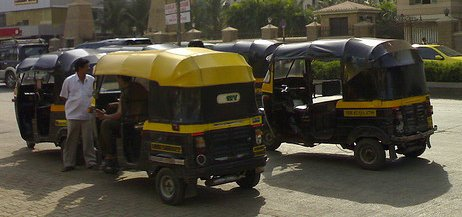 Auto rickshaws waiting for a fare in Mumbai.
On to Mumbai. Auto drivers here, in sharp contrast, are pleased to ferry passengers to farthest corner of the city limits (unless it's the change-of-shift hour). A longer trip meant large fare and less time hunting for other fares. Most drivers readily waive off a rupee or two if spare change cannot be jingled up to settle the full fare. Over the last decade and a half, drivers here have also retired the strategy of taking strangers in Mumbai over long winded routes in order to ratchet up a large fare. This grants one the liberty to relax in the back seat without pretending to be a regular from the neighbourhood. Of course, the occasional meters are still tampered with to pad up the fare by 5% or so but all in all, the interaction and service is courteous but more importantly, it's professional.
This professional attitude isn't just limited to autos in Mumbai. Allow me to narrate two incidents from last week. I needed some medical supplies and on my way home one evening, I noticed a new pharmacy in one of the contagiously mushrooming 'tower complexes' around my house. I walked into this store for the first time, made my purchase and couldn't find a 1 rupee change to meet the total bill. Without hesitation, the store clerk, who happened to be a young and seemingly educated chap, waived off the rupee. Just when I was about to walk out I remembered another item which I needed and turned around to make that purchase too. When I offered to pay for that the clerk did not charge me the pending one rupee. It was only when I pressed that he did.
In another instance, a couple of days later, I was returning home around 10pm after an evening besieged by a particularly persistent drizzle. I had to purchase a fresh garland for a picture frame and I stopped by my regular stall by the street. This stall was a two person operation. One who was responsible for weaving the garland and the other who was mainly responsible for making the sale, weaving only when free. That evening, perhaps because of the bleak evening weather, the stall was closing early. The regular salesman was not around and the person weaving was busy packing his stock. After helping me with my Rs. 15 purchase he couldn't find change for the 20 I offered. The salesman had already emptied the register. Without another thought he handed the 10 rupee note back to me and offered to collect the pending 5 tomorrow. Even when I pointed out that I wouldn't be back until next week he wasn't concerned. I had never interacted with him until then but it is possible that he recognized me as a regular and offered the benefit of trust. I would like to believe that he didn't want to be bothered, but more to the point, be a bother to a customer, both of who would rather escape from this bleak weather as soon as possible.
Service of this quality fosters customer retention. Any professional should know that. In Mumbai, I find this breed of professionals growing by the day.
17th August, 2010, Mumbai.