Dubai witnessed one of the craziest cash runs into it's economy. Most of it went into real estate. Outlay out-dreamed demand. Reality mattered little when it came to realty. Desert, a place with nothing but land of sand with oil beneath and a 360 degree horizon, was being transformed into a Manhattan or Shanghai. In the past a large water body attracted settlements in deserts. Now it's structures of steel, concrete and glimmering glass facades. Even desert land was shamed by this appetite. Sea was claimed, tamed and landscaped. "If you build it, he will come" was the premise of the Hollywood film Field of Dreams. An Iowa farmer hears voices instructing to build a baseball field in his farm to invite ghosts of legends past to play. The film ends happily for it can choose to end where it wants. Dubai has to endure the 2008 credit market crash.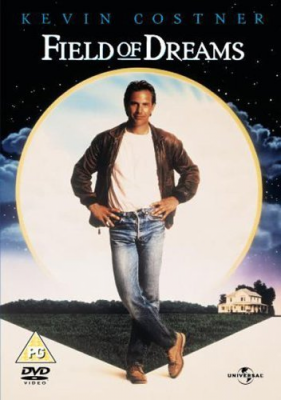 If you build it, they will come.
Mumbai beaches are a repugnant sight after high tide. The receding sea litters the beach with another sea of rubbish. The waves of cash crashing into the Dubai economy has left behind a similar metaphorical litter on it's exit trail. The facade is still pretty but the skeletons of unfinished and forgotten highrises will perhaps be preserved for ages as monuments to our era of excesses. History had Pharaohs and their pyramids, we have our politician-financier nexus and their highrises.
The inside story is even more depressing. Some of my acquaintances had discomforting tales to tell. I learnt from first hand accounts that government contracts for office equipment worth 80 million Dirhams ($21 mil.) and another for a 900 million Dirhams infrastructure project ($245 mil.) have been unpaid since the 2008 crash. The Italian company responsible for the infrastructure project have been curtly told to wait patiently to be paid or pack up and leave. The office equipment company is getting their balance in piecemeal, eroding fluently past profit margins into initial capital. Smaller manufactures and traders all have similar stories to tell.
A constipated constitution affects all aspects essential to smooth human function. A similar state of cash flow in our economy muddles the thinking of our top political bosses. How else could anybody explain some of the policy decisions in US and Europe to deal with the credit crisis.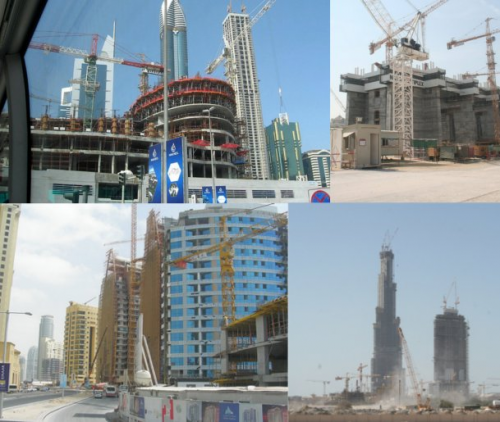 Dubai's comatose construction.
You don't need inside sources to learn of such destruction of capital and trust though. A drive through the newly developed areas of Dubai is enough to devise the story behind. Unfinished residential and commercial projects litter the skyline. From talking to people who commute through those parts everyday I learnt that the cranes haven't moved since the Ramadan of 2008. Rental prices have plummeted. A 3 year old luxury residential complex with more than 20000 apartment flats struggles at 50% occupancy. But even the owners of flats with tenants are operating at a loss. A 1200 sq. ft. single bedroom flat filled with luxury fittings, free central air conditioning, luxury fittings, spacious balconies within walking distance of the plush new Dubai metro line goes for 60,000 Dirhams p.a. (16K USD or 7.2 lac in INR). That's cheaper than Mumbai with considerably lesser amenities. What's mind boggling is that the same place rented for twice as much just a year ago. The rent on the same flat will be pushed down to 48,000 by December. With the holding capacity of property owners chewed down by diminishing liquidity and the overwhelming flood of available rental space there is no saying where the abyss lies.
3rd August, 2011. Dubai