The last time I hiked Bhimashankar was 14 years ago to this very season – the fag end of monsoon. The anticipation, then, was stoked by lucid descriptions by my co-worker about the pristine quality of the woods, the complex nature of the trail and the 800 year old temple dedicated to Shiva on the summit. All too eager to indulge, my friend and I took the last local train to Dadar, waited out the night on the platform and took the first train to Karjat at 4:30am. We started our hike at 8am and returned home the following day. It was all worth the effort then and I was eager to relive that experience now.
Khandas – living in the shadow of Bhimashankar
Bhimashankar is just another peak in the Sahyadri mountain range. Looks like any hill of this region, brown and arid in the summer but lush green and sporting countless streams otherwise. It's situated at a height of 3250 ft. above sea level and connected by road to Pune. Reaching it from Mumbai is a 2250 ft. climb on a trail that serpentines 3 hills. It's well known as a revered pilgrimage among Shiva devotees as are most forest trails in India. On the summit, a village of few hundred services this industry. I was told by the locals that the tourist season here are school holidays in May, Shivraatri and Shravan, the season of fasting observed by the Hindu Maharashtrian community.
Anoop, my nephew, and I had been on and off the fence about this for a few weeks before finally deciding to go for it this weekend. We embarked from home at 5am and took a rickshaw, local train, State Transport bus and a tuk-tuk that got us to the village at the base of the hill called Khandas. It is a small farming community 20 km. north-east of Karjat. My hopes of any remnants of the overcast conditions from the night before was not to be. It was 10am and the sun had begun searing the landscape.
The road from Khandas to the base of the hill was surprisingly well paved even for Mumbai standards. Both edges of the road were studded with patches of retro-reflectors to aid night time driving. Signs for 20 km speed limit and Accident warning were posted methodically at frequent intervals. They mystery of the first rate condition of this road became apparent as I didn't spot any motor engine on this road. My eagerness to walk under the shades of wooded forest and on soil and rock made the 15 minute walk on this tar road seem much longer. There was no respite from the sun either.
At the entrance to the woods we paused briefly to relieve and replenish our systems, strap up our boots and bolster my spirits. Pausing before entering a revered zone is quite a common practice in this neighbourhood of the world. All you have to do is to watch a sportsman take field – be it Kabbadi, Kho-Kho or Cricket – there is a definite and purposeful pause before entering. Same with a truck driver taking seat before a long haul. Seemingly a strange ritual the purpose of which surely needs no double guessing.
Tall trees on either side of the trail provided the perfect canopy and shade. The lush green undergrowth soothed the vision that had been garishly strained by the sun.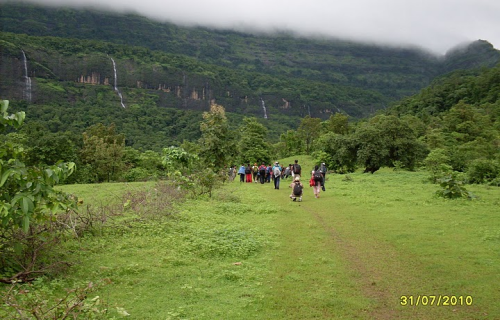 Crossing a meadow on the plains
The climb started as a gentle gradient. So far we had no other soul for company however, retracing our steps from a brief misadventure on an incorrect path brought us in contact with a group of 3 who were on this trail for a single day hike. After exchanging pleasantries we were soon on our way. The first man made shelter on this trail is a temple of Ganesh. I remembered this as a 10×10 hut made of logs from the local forest on a raised platform made of rocks with Mangalore tiles for roof. A rock resembling Ganesha, painted in bright saffron was mounted on another larger rock in the middle of this structure. There were no walls. Now, however, it is an "under construction" structure of bricks and mortar. The roof is yet to be done and I'm already dreading that it might be sheets of asbestos or tin rather than the earthy tiles. The only item untouched was the idol. We met up with another group of 8 at this point and all of us chose to rest on the rocks and earth instead of using this structure.
The next stage challenged us with a 15 foot near vertical face of boulders. It demanded all four limbs for grip and support to negotiate this and it was only on our climb down the following day that we discovered an alternate winding and much gentler trail to navigate this stretch. From here on the gradient was progressively steeper. The gap between breaks got much shorter and the fact that I had just a bhaji pav for breakfast was clearly ill preparation. At this height the trail was mainly rocks and boulders and shades were harder to come by but on the other hand the views kept getting better. After climbing the first hill a significant portion of the next stretch was through plains. A couple of acres had been cleared for agriculture and a local family had been harvesting rice on this for 3 decades. The oldest member of this family had been operating a tea shack on the trail for just as long. We stopped for the chat more than the tea.
Griping about the high price of commodities was a popular topic of discussion. It could be because there were few dissenters in this discussion. Even though his sons produced rice, the price rise didn't benefit him, he said. Sugar prices were at an all time high at Rs. 40 but that didn't discourage him from sweetening the tea like kheer. Tea in this neck of the woods is brewed with milk on high heat for long enough to form a dark heady concentrate that could stain even ceramic. It's served in style and quantity just like a shot of tequila and is meant to sipped while still scalding hot. My memory told me about a stand selling chaas (buttermilk) around these parts and I enquired about it. The villager pleaded ignorance about this in a manner incongruent with the rest of the conversation. I ignored this and pushed forward towards our summit. We hadn't taken more than 20 steps when just around the corner from the tea stall was the chaas stand, manned by the villager's grandson. The shrewdness of the villager reminded me of Akira Kurosawa's Seven Samurai where Mifune's character exposes the popular perception of a farmer being humble, honest and hard working. It seems that the farmer's constant mistrust of nature and all it's vagaries in sabotaging his efforts infuses the shrewdness for survival in him. Being able to experience a revelation such as this is the kind of payback I desire in such trips.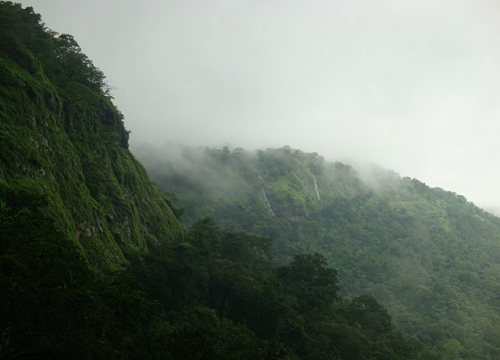 Monsoon clouds rolling over.
Climbing the next hill seemed even more strenuous and my energy level was dropping rapidly. To make matters worse I was cramping in my calves and thighs. A cramp was the last thing I needed so I kept my strides short to avoid further aggravation. The group that we had encountered earlier decided to call it quits on this hill. A local who was climbing down tried to encourage them by saying it's just 10 more minutes to the summit. From my past experience I had learnt exactly how much weight to put in such predictions. 10 minutes for the local is at least 45 minutes for folks used to motor for transport. Also, people used to motor for transport track minutes on their wrist instead of their senses. Always understanding the measure but rarely the worth.
Continuing slowly I could sniff the summit from my memory and soon I was in the clearing that first greets hikers to Bhimashankar. Kids playing cricket on this grass covered clearing with the tower of the temple reaching for the bright and sparsely clouded sky filled my vision. We crossed this as briskly as I could manage on my tiring legs, reaching a shed built on the courtyard of the now shut down MTDC lodging. Unholstering my backpack I sat down groaningly on a rickety bench with a cold glass of lime juice, deciding to rest for a while.
Continued in
A night in Bhimashankar
27th September, 2009, Mumbai.