Saina Nehwal, the undisputed darling of Indian media since last year has been rudely jolted out of her innocence. The flight of fame which the media was piloting her on has experienced it's first turbulence. Her ability to stay away from the journalists, focus on her sport and keep her targets in sight have all been disturbed.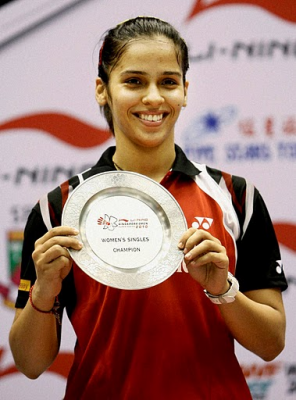 Saina Nehwal.
In an innocuous interview on the sidelines of an event at her mentor's badminton academy she stated the following:

Looking at the stadiums and looking at the progress, I don't really think we are capable of holding such big tournaments because you know, I have seen many Games like the Commonwealth Games in Melbourne (in 2006) and Olympic Games in Beijing (in 2008). Compared to that it's not upto the mark.
But I am sure that before 3rd or 2nd of October it will be ready and people will like it. But with the comparison of these Games seems not upto the mark.

The second part of her statement where she expresses hope about the Games being a success was considered not newsworthy. Reading at the screaming headlines one would be lead to believe that Saina was being disloyal to the organization who chose her as their ambassador. Pitting Saina against the CWG team in a cat fight and cheering from the sidelines for subsequent newsworthy nuggets to fall out seems to be the only motive behind this edition of the media's circus act.
Saina's statements were true to character of a 20 year old novice at public speaking, revealing the innocence of her age while simultaneously exhibiting the confidence from experience of having participated in events of much higher stature. Instead of choosing to use her comments as an opinion of an accomplished sports person the media, in it's inimitably crass taste, decided to stoke it into a controversy. Almost immediately after the realization of her statements seeped in, Saina tendered a sincere apology saying:

I am sorry for whatever I said. I did not mean it. The Commonwealth Games will be a huge success.

Mercifully, the CWG officials kept their ego's in check and declined to comment on the entire matter.
Hopefully the story will die prematurely. The media bosses will rue this lost opportunity. The CWG officials will heave a sigh of relief of having to deal with one less irritant. Saina can get back to her practice with sights set on medals.
If there is any lesson to be learnt in this it's that the media is nobody's bedfellow, no matter how warm and secure their cuddle might have felt in the past.
6th September, 2010. Mumbai.