At a time when the world is abuzz with news and opinions demonising Lalit Modi, I would like to bravely, and perhaps foolishly as well, spare a few good thoughts on his behalf.
The rise of Lalit Modi through the ranks of Indian cricket administration is meteoric by any standards. Especially when one considers that he wasn't born with a cricketing pedigree. Until his arrival in the thick of matters of Indian cricket administration, cricket was sincerely being true to one of the words in it's organization's title – Board for Control of Cricket in India.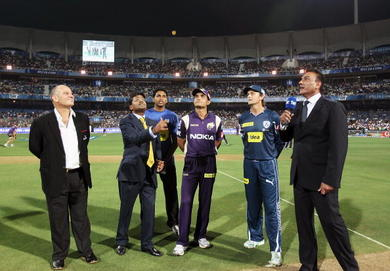 Lalit Modi – now awaiting his fate
It's hasn't been that long since BCCI finally came to terms with the fact that revenue must be paramount to any ego clashes between it's members. Prior to the commercialization of Indian cricket, decisions taken by this esteemed body rarely succeeded in presenting the best product (team) in the market. When citizens had been craving for role models and the industry had been starving for opportunities to convert this idol worship into capital gains, BCCI had been fraught with regionalism, favouritism and nepotism. Thank god that changed!
The efforts have paid off in getting us to where we are today, no.1 test ranking, no. 2 ODI ranking and a very strong contender in the T20 format having won the inaugural World T20 in a dramatic manner. Even then the BCCI had been dragging their feet when it came to truly commercializing the latest craze, the T20 format. ICL, the original Indian cricket league, had a jumpstart on BCCI by 2 years! The English domestic circuit has been practising this format for much longer after having pioneered it. BCCI, for all it's success and clout where so busy controlling things that they invested no effort towards the next big thing to overwhelm cricket since Kelly Packer and his World Championship of Cricket. Thank God for Modi! Also, thank God the BCCI gave him a free rein.
The canvas for cricket fans all around is certainly much more colourful with the way Modi has shaped IPL. His vision was much grander than anything BCCI or anybody could have imagined. Nobody believed that the conservative and secretive cult of BCCI administrators had the gumption to dream anything this vast. After all, everybody bought into the fact that BCCI is more interested in maintaining control rather than to give in to popular public demands. They were afraid that they would have to face this very day where BCCI and IPL are at loggerheads with each other.
I have no sympathies for the BCCI in this matter. Any novice could sense that something so large could not be constructed through absolute legal and moral means in such short a time. More than a few matters were obviously overlooked or left unquestioned by the BCCI administrators when it came to the IPL.
Modi was their poster boy for the new mantra – anything that fills their coffers is good. IPL has been an unmitigated success in all respects. Each year the show got grander. Each year the IPL attracted newer fans.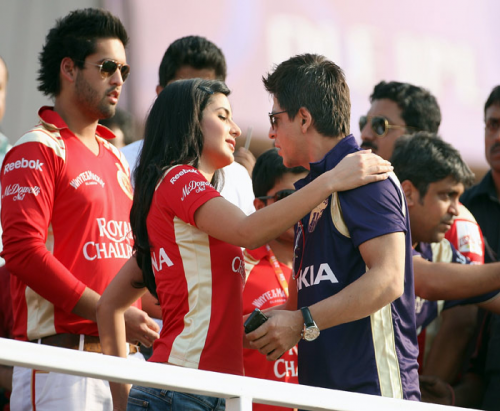 IPL – the stars are in the house.
Just when Modi was about to be ready to put on even grander show for the next 3 years by adding more teams, he himself fell prey to the urge to control. His personal bias to induct 2 new owners who were on his wavelength rather than to submit to the highest bidders was his initial mistake. This could have been tided over if not for the sin that he committed by announcing his intentions to the world so cavalierly. Incriminating a senior minister of the government in the process was just another casual wielding of the proverbial kulhadi (axe). To be able to mask indignation in defeat with humility is a lesson all seasoned politicians have learned. It seems Lalit Modi skipped a few lessons from his mentors at the BCCI and allowed himself to be swayed by the orgy he conceived.
There was no reason for Modi to be so brazen about his true intentions after the deed had been committed and sealed. He could have silently licked his wounds and waited for an opportune moment to get back. That is what truly seasoned administrators are good at. The very seasoned administrators he is fighting presently. There is absolutely no chance that he will be on the winning side of this fight. So, good luck Mr. Modi.
Modi's dream was bold. A vision that few dreamed of but he sculpted to life. He also gave us a glimpse into the possibilities next year by adding 2 new teams and putting on a good show this year despite the issues he had with Deccan Chargers home ground on account of the Telangana agitation, uncooperative Rajasthan Cricket Association and the twin blast that resulted in shifting the finals and semi finals from Bengaluru to Mumbai. He made the product more accessible by broadcasting on digital channels as well as broadcasting to theaters and catering in much more innovative ways to the fans by maintaining a top quality website, http://www.iplt20.com/ . To have achieved all this within 3 years despite the major obstacle last year (staging the show in South Africa at the eleventh hour) would have required the gutsiest CEO in the world. Modi was unbridled with his vision. His quick turnaround on controlling news and footage of IPL matches from disseminating through the news media was the most honest redressal of a mistake by any CEO in the recent past. Well, maybe Toyota CEO Mr. Akio Toyoda could edge him out. If Modi were the CEO of a corporate entity, one with unmasked intentions of working for profit, he could not have been ousted. Stake holders would have fought tooth and nail for him to continue. He would have received an astronomical bonus in cash and stock. It would be crazy to imagine that somebody else could fetch you better returns than Modi. But BCCI isn't ready for a public expose of the true capitalistic engine that drives it's heart.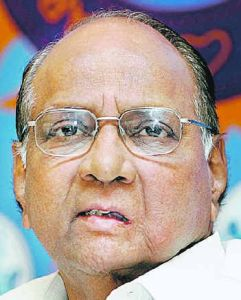 Sharad Pawar – a seasoned politician, now president of the ICC.
The very engine that has attracted seasoned politicians into it's administration in Sharad Pawar, Narendra Modi, Praful Patel and even Lalu Yadav. These guys are too big for Modi. But if Modi continues to be Modi, the fight we are about to witness makes me drool in anticipation. A born spectator of competition that I am.
26th April, 2010, Mumbai