Pomegranates always had a medicinal aura about them in my imagination. Perhaps it's the intricately studded gems of tiny and yet at the same time bountiful rubies that pop and burst like tiny firecrackers of flavour when crunched upon. Perhaps it is the deft craftsmanship required to peel and deseed one theat wrenches your faith into believing that some creations were blessed with capacities to heal. Whatever it is for you, I urge you to purchase some on your way home today. In Mumbai they are available in every market and in good quality too. At Rs. 120/kg (bolne ka bhaav not dene ka bhaav) they are not too pricey either.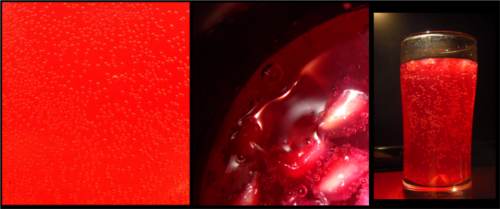 The crimson quencher
This drink came to me while watching the movie Thor on HBO. I can't recollect any trigger or any lingering connection but I am not in one of my over analytical moods at present. This recipe serves 3-4 persons, depending on the apettite of their quench.
Ingredients
1 teaspoon sea salt, crushed
1 cup ripe pomegranate seeds
2 small limes, preferably half ripe (half green and half yellow), washed
3 tablespoons rose syrup, I used Mapro's Rose Sharbat
300ml club soda, chilled
Directions
Throw in the salt and pomegranate seeds into a wide bottom mixing glass
Using a crusher, lightly crush the pomegranate seeds
Add the rose syrup
Squeee the limes and chuck in the rinds as well
Blend in the soda
Remove the rinds and serve within the next minute
15th January, 2013. Mumbai.