In the second part of this speech, Rajiv Gandhi Speaks Against Nuclear Weapons, Shri. Rajiv Gandhi presses home the point of the futility of nuclear arms race. He outlines a process, which if adopted by the U.N. and the masses, would bring about complete elimination of nuclear arms from the face of this earth by 2010.
Alas, it is as much a reflection of the lack of leadership as it is about the dearth of a universal platform for masses to organize, that the race has only intensified by new entrants seeking to secure this invaluable diplomatic bargaining chip. India and Pakistan having already underlined their philosophy by the tit-for-tat tests in late 90's it's now the turn of Iran (to be clear Iran's claim has always been it's pursuit of nuclear technology for power generation) and North Korea.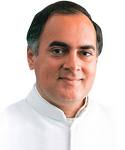 Shri. Rajiv Gandhi
This section of the speech is dry on emotions and full in procedural outlines. The need to hold an audience's attention during such sections is a critical challenged faced by speechwriters, especially in speeches with such an ambitious objective. Shri. Rajiv Gandhi's effort is satisfactory in this regard.
In this part of the speech Niels Bohr, Gandhi and Nehru's quotes make an appearance. It ends poignantly, relying on a quote from Dhammapada.