Shyamaprasad's vision, and execution, of Sunil Gangopadhyay's original novel (name not credited in movie) is a triumph in story telling on celluloid. A very complex yet simultaneously basic notion of personal choices that one consciously makes in the quest for one's place and purpose in the universal consciousness is told in the most beautiful manner.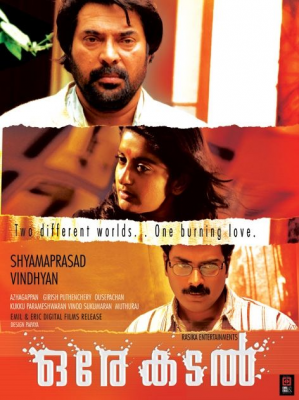 Ore Kadal – publicity shot.
The narrative opens by revealing three characters who have already chosen their ways of life and are comfortable in their choices. Nathan, a successful economic philosopher with a trade in academia good enough to support his two other indulgences – fine liquor and female companionship. Deepti is an urban middle class housewife with a devoted and conscientious husband, committed to providing a secure domestic household for his family. Deepti is pretty and alluring in her innocence. Bela is Nathan's female companion of choice. She owns and manages a pub which Nathan frequents.